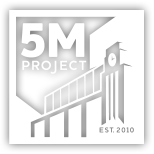 History
The San Francisco Chronicle has made its home at 5th and Mission streets for nine decades. Since 1924, the site has marked a transition from downtown to Mid-Market and SoMa's eclectic mix of uses, which continues today at 5M.
"This is the
first great building west
of Chicago to
be designed
expressly for
newspaper
production
on modern factory principles."
— San Francisco Chronicle, 1924
Where Creativity
and Industry Meet
Maturing
Downtown
The Chronicle building's downtown area has come to include an eclectic mix of neighbors and uses, from the high-rise financial district to the Powell Street station. Each of these has contributed to a vibrant downtown, with a mix of people and activities.
New
Opportunities
By 2008, the Chronicle building had vacant office space and was surrounded by underutilized parking lots. The Hearst Corporation engaged Forest City to help imagine what to do next with the site.
50%
of the
4-acre
site is
parking
lots
Rethinking
The Building
After a series of conversations and workshops with local stakeholders, as well as with growing and mature companies, Forest City decided to first repurpose and reuse the Chronicle site as it was.
Developing
Partnerships
We retooled newly available space in the San Francisco Chronicle building and surrounding buildings. We made partnerships and tested new ideas — for working, for art, and for connecting to the neighborhood. Looking to the site's cross streets for inspiration, we named this endeavor the 5M Project.

From 1
organization
to 9 - featuring arts, making,
business incubation & community service.